PEACH FUZZ BE GONE! EMBRACING THE BENEFITS OF A FUZZ-FREE FACE
Peach fuzz, (otherwise known as vellus hair), is the fine, translucent, soft and fluffy hair that covers most parts of our bodies, including the face. While it serves many functions, many beauty junkies find it bothersome, affecting their clear complexion and makeup application. So, let's dive into the world of peach fuzz, focusing on dermaplaning (which has been gaining traction for its ability to transform the skin and unlock its natural radiance) and uncover the truth and benefits of removing peach fuzz, as well as what peach fuzz really is, whether it's normal and if it's secretly causing acne (the horror!).
WHAT IS PEACH FUZZ?
Picture this: you're checking yourself out in the mirror, and you notice these tiny, barely-there hairs on your cheeks, jawline, and upper lip - that's your peach fuzz! It's harmless and unlike terminal hair (which is coarser and darker) it is also less noticeable and often appears almost colorless. However, that's not to say that it can't become problematic, especially if you're really not into that cakey makeup look. This fuzz on our faces leads to an uneven skin texture - not ideal for that flawless complexion we're all looking for!
IS PEACH FUZZ NORMAL ON THE FACE?
Oh, absolutely! Peach fuzz is like the VIP guest of your face, invited and expected to be there. It's entirely normal for both men and women to have this delicate fuzz gracing their skin. Sure, it's a natural part of our body, and it serves some purpose. But do we really need it? Can't we strive for something better, something smoother and something more flawless?

DOES PEACH FUZZ CAUSE ACNE?
Believe it or not, this little devil is not entirely innocent. While it might not be the main cause of acne, peach fuzz can contribute to the problem. These tiny hairs on your face trap oils, dirt, and bacteria, leading to clogged pores and breakouts. It's like inviting acne to the party and letting it wreak havoc on your beautiful skin. Who needs that kind of trouble?
SAY GOODBYE TO PEACH FUZZ, SAY HELLO TO RADIANT SKIN
Now that we've covered the not-so-great side of peach fuzz, let's explore the incredible benefits of removing peach fuzz. Trust us; once you experience the magic of fuzz-free skin, you'll wonder why you didn't do it sooner!

Smooth as Silk: Picture running your fingers across your face and feeling nothing but silky-smooth skin. That's the dream, right? By removing peach fuzz, you can finally benefit from that soft, touchable complexion you've always wanted.

Flawless Makeup Application: Have you ever tried applying foundation on peach fuzz? It's a nightmare! Those little hairs love to mess with your makeup, leaving you with an uneven and patchy finish. Say goodbye to the cakey makeup struggles and hello to a flawless canvas for your beauty masterpieces.

Acne-Proof Your Skin: Remember how peach fuzz can trap oils and dirt, leading to acne? Well, by removing it, you're taking a major step towards preventing those pesky breakouts. Who needs acne when you can have clear, beautiful skin?

Glow Like a Goddess: Picture yourself basking in the sunlight, with your skin radiating like a goddess. Without peach fuzz to steal the spotlight, your skin reflects light evenly, giving you that natural, lit-from-within glow.

Maximise Skincare Benefits: You invest in all those fancy skincare products, but are they truly doing their job? Peach fuzz can be a major barrier, preventing those magical serums and moisturisers from reaching their full potential. Remove it and you'll see your skincare products working wonders like never before.

Boost Your Confidence: Imagine waking up every morning to a fuzz-free face, feeling confident and ready to take on the world.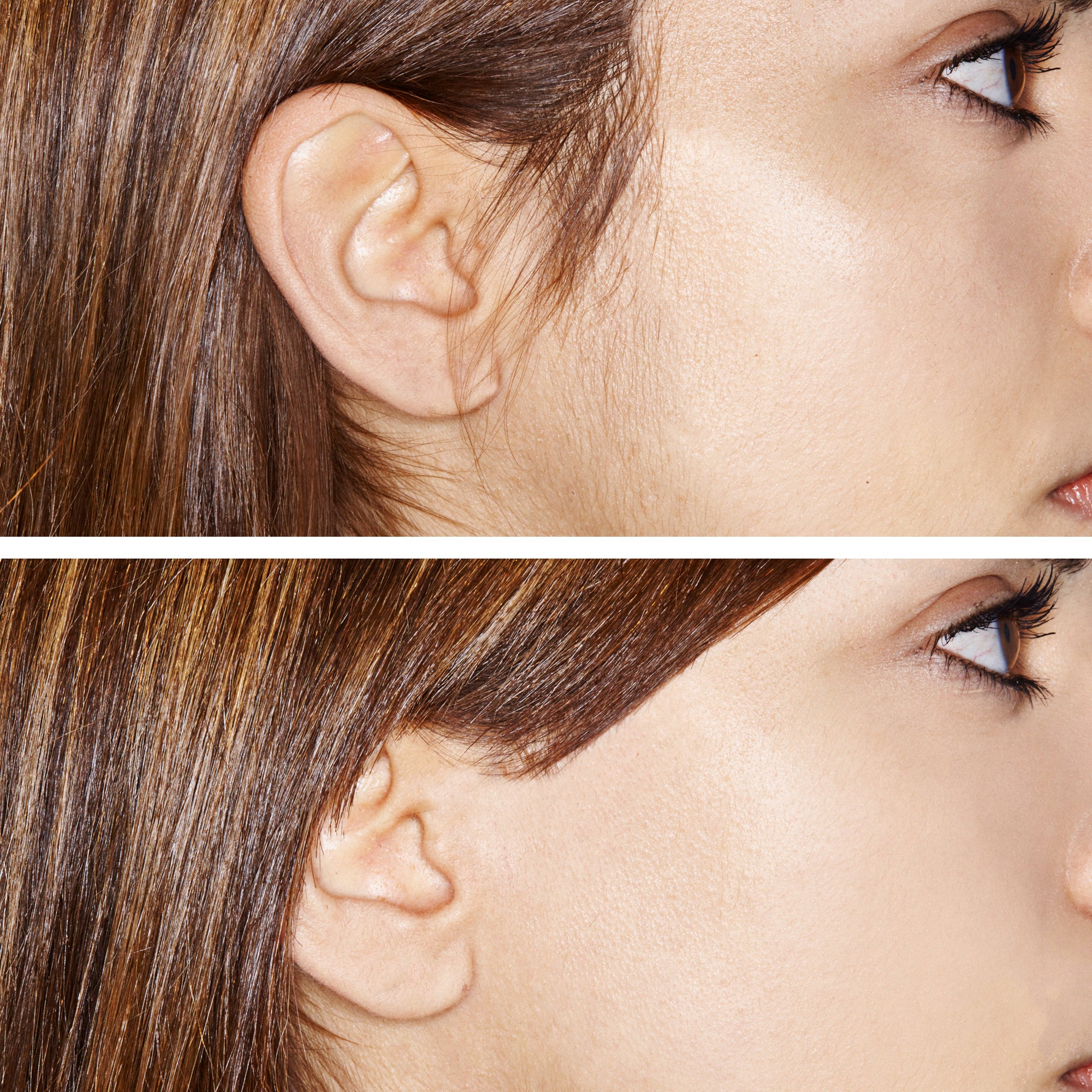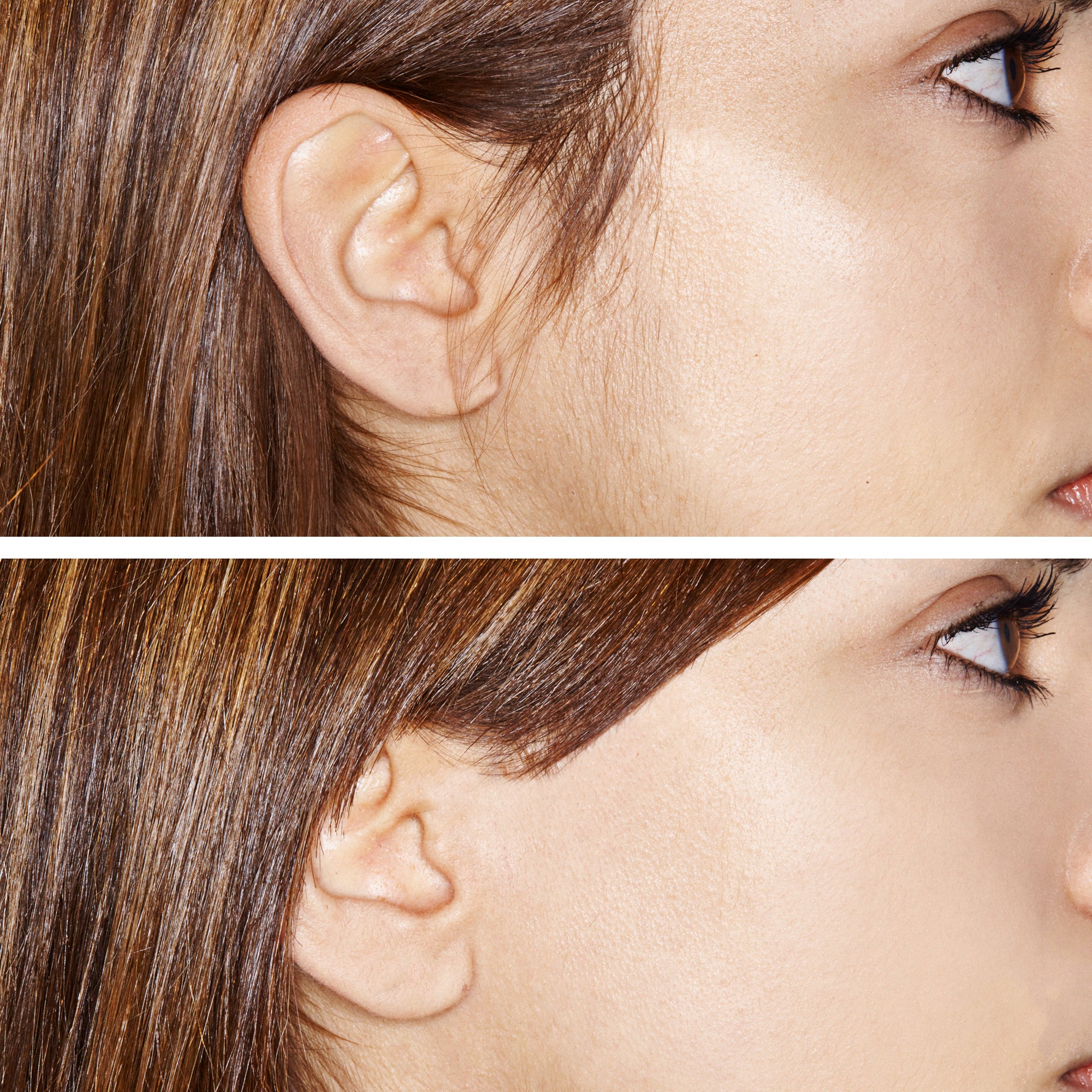 DUO HOLLYWOOD BROWZER® DERMAPLANER
THE FUZZ-FREE JOURNEY WITH DERMAPLANING
Now that we've explored the perks of ditching the fuzz, let's talk about one of the coolest ways to achieve fuzz-free perfection: dermaplaning! Think of it as the VIP treatment for your face – it's like you're treating your skin to a spa day!So, what is dermaplaning all about? It's a fancy word for remove dead skin cells and peach fuzz from the surface of the skin to provide a naturally glowing complexion and leading to a flawless makeup application.
THE FUZZ-FREE JOURNEY WITH DERMAPLANING
No More Fuzz: Dermaplaning gently removes peach fuzz, leaving your face feeling as smooth as a baby's bottom. Say goodbye to fuzzy surprises when you catch your reflection in the sunlight!

Exfoliation Nation: It's like giving your skin a fresh start! Dermaplaning exfoliates away dead skin cells, revealing the youthful and radiant skin hiding beneath the surface.

Your Skin's New BFF: By exfoliating your skin, dermaplaning helps your skincare products work wonders. They can now penetrate deeper into your skin, giving you that ultimate glow-up!

Instant Results: Dermaplaning is like a magic wand – it delivers instant results. We also call it a confidence stick! You'll finish your treatment resulting in smoother skin and a newfound confidence.

Painless and Safe: Don't worry about pain – dermaplaning is a breeze! Most people find it pretty relaxing and there's no downtime. You can go about your day with your head held high and your fuzz-free face glowing!
So, while it might be normal, we encourage you to strive for something more extraordinary – smooth, radiant, and acne-free skin. Embrace the magic of hair removal techniques and unleash the true beauty that lies beneath the fuzz. Say goodbye to peach fuzz, and hello to the flawless, confident you! You deserve to shine and show the world your best self. So, let's bid farewell to peach fuzz and welcome the new era of fabulous, fuzz-free faces! Cheers to your radiant journey!